Middleton's Dairy delivers local fresh milk, dairy products, eggs & groceries throughout The Peak District.
The convenience and value of having local fresh milk and groceries delivered direct to your door cannot be beaten.  We pride ourselves on the milk delivery service we offer to the residents and businesses of the Hope Valley and Peak Park areas. Middleton's Dairy have supported local farms and dairy businesses for many years – please see our product list here.  We provide a reliable free delivery service for a range of milk and grocery products, saving you time, effort and money.
It's quick, easy and secure to pay your milk bill with Middleton's Dairy. You can pay by several methods – just register here to pay online or by cheque, Bacs or call our friendly office team on 01433 651650 to pay by credit/debit card.  Any queries please call the office or email office@middletonsdairy.co.uk to discuss other options.
* Do you know anyone who would like to become a milkman?!  We currently have a vacancy – please contact the office for more information.
*  NEWS UPDATE  –

Butter & Cream could cost more by Christmas, Arla boss warns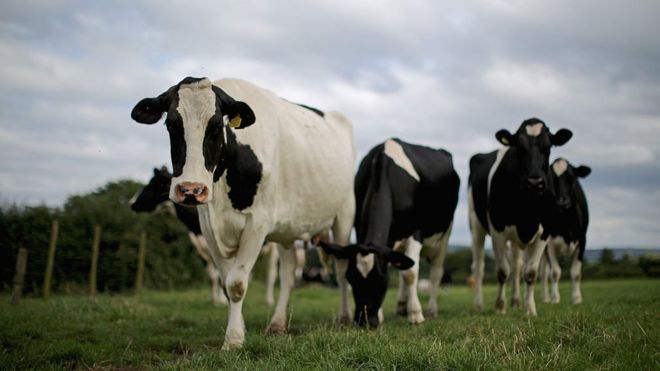 The UK could be facing a butter and cream shortage this Christmas, the boss of dairy giant Arla has warned. "The first sign we will see of it, is that the price of butter rises very sharply," Peder Tuborgh, chief executive of the farmer-owned firm told the BBC.
There was insufficient milk being supplied by farmers to make the products, he said. Arla Foods is a large European milk co-operative, owned by dairy farmers including British ones, and is the largest UK milk buyer. Its brands include Anchor and Cravendale, and it has annual revenues of 9.6bn euros (£8.4bn).
Record high
Mr Tuborgh said the milk shortage had come about because producers "put the brakes on" in 2016, in the wake of previous overproduction of milk and consequently lower prices. He said consumers would feel the impact across Europe in the coming months, suggesting that price rises would differ between European nations. However, the Arla boss did not want to predict how much butter would cost later this year.
"At the moment, we are trying to get as much butter and cream out of our producers," he said. It comes as global butter prices have hit an all-time high, according to figures released on Thursday by the UN Food and Agriculture Organisation. The UN body said butter prices rose 14% last month because of higher demand for the fat and lower dairy exports from major producers.
---
Fresh Local Products Delivered to Your Door
---
We supply a full range of fresh Derbyshire milk & dairy products, including Organic.  We can supply residents, shops, businesses, nursing homes, schools & nurseries with any quantity of milk in a range of sizes, including eccological reusable glass pint bottles.
Order the ever popular Longley Farm products, including award winning yoghurts, cream, creme fraiche and cottage cheese, all free from additives, preservatives or colour and delivered direct to your door.
Our range of free range eggs are produced by local farms and don't come any fresher!  We also can supply Fruit Juices, water, fizzy drinks and other grocery and seasonal items, such as diaries.